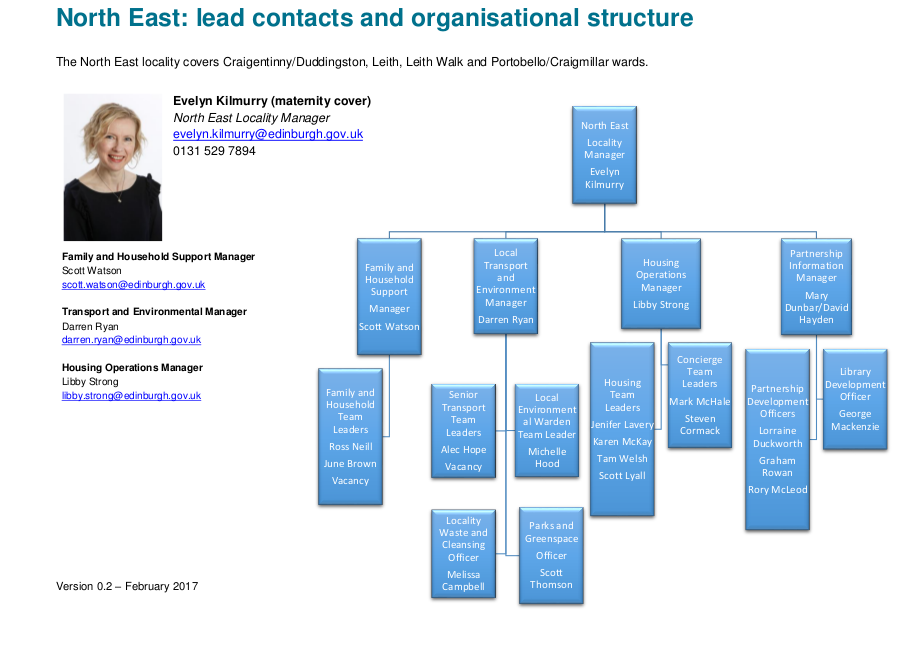 ​
Dear Neighbourhood Partnership member,
As we continue to develop locality working and colleagues settle into their roles and teams, Councillors, and other colleagues and partners, have been asking for information to help them identify who their key local contacts are.
In response to this, we have produced the attached Locality Directory which will be shared with Council colleagues and councillors, as well as with our partners.
This directory is not a comprehensive directory of all Council services, but will help guide people towards finding their local contacts. Further work will be taken forward to develop a fuller guide to Council services.
As your contact details are included in the directory, please can you help us to make sure this directory is as effective as possible by letting us know of any changes to your details and helping us to manage any enquiries that you receive.
We will continue to review and develop this directory, so If you have any amendments or suggestions about how we can take this forward, please do get in touch.
I am also sending you a list of key contacts in the North East Locality as requested at our previous NP meeting. This list includes direct line telephone numbers for Officers, but I would like to advise that at times, due to meetings/ travel time etc, it may be more effective to email Officers rather than using direct dial numbers,
Many thanks,
Evelyn
Evelyn Kilmurry – Acting North East Localities Manager – Place- City of Edinburgh Council – East Neighbourhood Centre, 101 Niddrie Mains Rd, Edinburgh, EH16 4DS – Tel: 0131 529 7894 – evelyn.kilmurry@edinburgh.gov.uk

North-East-booklet-with-phone-numbers-16th-February-2016.docx


Your-localities-directory.pdf