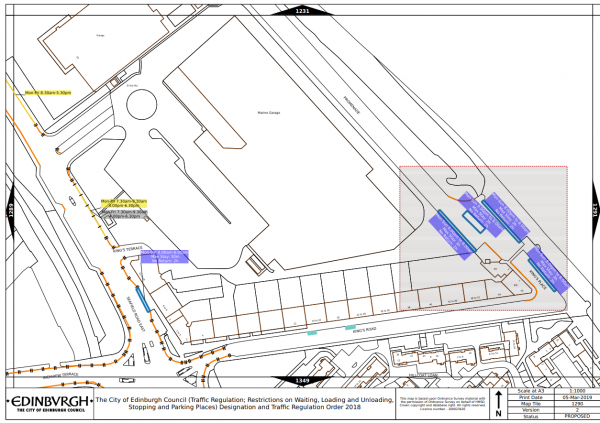 | | |
| --- | --- |
| Date | 15 March 2019 |
| | |
| Your Ref | |
| | |
| Our Ref | TRO/18/38/HR |
| | |
| | |
| | |
Dear Sir / Madam
KING'S PLACE – EDINBURGH
PROPOSED INTRODUCTION OF 24HR WAITING RESTRICTIONS & LIMITED WAITING BAYS
I refer to our previous letter of 9 May 2018 regarding the above.
In accordance with the terms of the Local Authorities' Traffic Orders (Procedure) (Scotland) Regulations 1999, I write to inform you that the City of Edinburgh Council proposes to advertise the Traffic Regulation Orders which will introduce 24 hour waiting restrictions and limited waiting bays operating from Monday-Sunday 8:00pm to 8:00am on King's Place.
The proposals are shown on the attached map tiles including the existing map tiles and a copy of the street notice is herewith attached for your information. Further information is available on the Council website www.edinburgh.gov.uk/trafficorders or at www.tellmescotland.gov.uk.
Should you wish to submit an objection to the proposal, please do so by 5 April 2019 quoting notice reference number TRO/18/38.
Yours faithfully
HOLLY ROBERTSON
TRAFFIC ORDERS ADMINISTRATION OFFICER
Please see the attached documents for full details of the TRO
Existing Map tile: 18_38_Existing_Map_tile_inc._legend
Proposed Map tile: 18_38_Proposed_Map_tile_inc._legend
You can comment on the proposals by writing to:-
Traffic orders
249 High Street
Edinburgh
EH1 1YJ
Email: trafficorders@edinburgh.gov.uk
Tel: 0131 469 3122
You can also use the form below.