City of Edinburgh Council Parks Dept asked for feedback from the community on how to spend £35,000 allocated to one of Portobello's playparks.
Respondents were asked to indicate their preference for one of the following:  Replacement equipment for Towerbank Playpark (known as the Fishy Park); Additional equipment including an accessible swing for wheelchair users at Straiton Place Park (known as the Pirate Park) or new equipment for an Outdoor Gym on the eastern side of Straiton Place Park.
The results were as follows.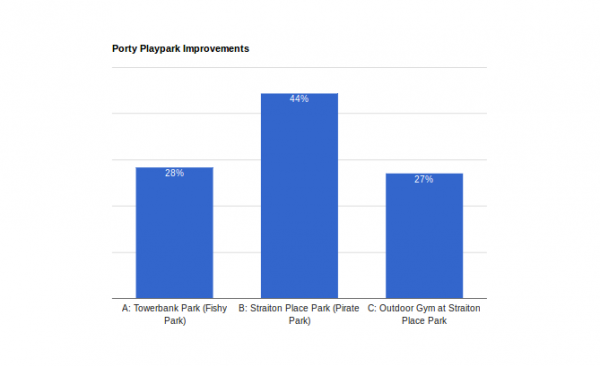 Comments received
Which option do you prefer?
Please give reasons or make any other comments or suggestions.
Towerbank Park (Fishy Park)
It's needs modernising
Straiton Place Park (Pirate Park)
It adds new facilities for children rather than replacing what is already there.
Outdoor Gym at Straiton Place Park
Straiton Place Park (Pirate Park)
This is the park with most space to add additional equipment.
Towerbank Park (Fishy Park)
Its a depressing rusty park desperate of up grading
Straiton Place Park (Pirate Park)
Fish park option seems to just replace kit already there rather than offer something new. Gym ok, but there are many fitness opportunities in porty I feel. The pirate park option actually adds an alternative play experience. I still think porty needs a park more geared to older kids though- along the lines of the beach park in Carnoustie which is excellent for all ages.
Straiton Place Park (Pirate Park)
This is a great park in a strong location so would benefit from extra equipment as it is always busy.
Outdoor Gym at Straiton Place Park
Portobello prom has many people who use the space to exercice outdoors. It would be great to see the money spent on something for old children and adults
Outdoor Gym at Straiton Place Park
This would be a fantastic asset to the promenade and would be great for older children who are not catered for.
Straiton Place Park (Pirate Park)
The park is well-used and it seems sensible to use the money to add new equipment to the parks rather than just replace equipment that seems OK anyway (as in option A). Kids play outdoors in any weather whereas not sure if an outdoor gym will get so much use. Another couple of seats/picnic benches in Straiton park might also be good?
Towerbank Park (Fishy Park)
Looks fun!
Straiton Place Park (Pirate Park)
Most central of the parks therefore misty likely to be used
Straiton Place Park (Pirate Park)
This will add to the play park by providing activities for disabled children and more activities for older children – making this park more inclusive. As far as I know there are no specialist facilities / outdoor equipment for disabled children in Portobello – making this a welcome addition. It will also mean that this park is more attractive to a wider age group of children – which is especially attractive to families with children of different ages.
Outdoor Gym at Straiton Place Park
I think the other two parks are already good and the gym equipment would be a new thing to introduce to the prom
Straiton Place Park (Pirate Park)
this option appears to offer a bit of a play facility for slightly older children. I also feel Portobello should have accessible swings
Outdoor Gym at Straiton Place Park
Portobello Promenade is a great place to go for a run/cycle, it would be even better if this could be combined with somewhere to do body weight exercises that was free to use. I have visited several such gyms when traveling and think they are a great idea!
Straiton Place Park (Pirate Park)
This will make better use of.the park for older children
Outdoor Gym at Straiton Place Park
This equipment is durable and easy to use. As it is free to use this makes it accessible to the whole community. With obesity numbers ever increasing it is vital that Portobello leads the way in providing ways to combat this. It's also hugely beneficial for children and young people to see adults/parents being active as this sets a good precedence.
Outdoor Gym at Straiton Place Park
I think this is the perfect answer to address the health and well being challenges not only of adults but children as well. it is a solution that caters for all. The play parks just cater for children. This outdoor gym scenario will allow the park to be used by all.
Outdoor Gym at Straiton Place Park
Outdoor Gym at Straiton Place Park
The council gym is too expensive for me and there are no budget gyms (e.g. Pure Gym) nearby. Portobello is good to go running in but there isn't currently anywhere I can do bodyweight strength work and my flat is too small.
Straiton Place Park (Pirate Park)
The playpark facilities in Portobello are poor given the number of children in the area. The pirate park is most heavily used but the amount of equipment there is inadequate. The park on Musselburgh links is a great example of the local council investing in accessible outdoor play equipment for children. It would be fantastic to see something comparable at the heart of the prom in Portobello.
Straiton Place Park (Pirate Park)
Busy park and needs more play options much underused space here. Fishy Park also needs investment though… Shelters area is not nice
Outdoor Gym at Straiton Place Park
There are lots of,play areas for children in portobello including the beach itself. There are lots of fitness incentives for adults at various local facilities, but this would be accessible to those who cannot afford to pay the fees and it's in an area which is in great need of upgrading.
Straiton Place Park (Pirate Park)
Towerbank Park (Fishy Park)
Outdoor gym equipment will never be used. Straiton park ideally needs a complete overhaul to make it worthy of its brilliant location. I.e. smaller version of Diana memorial playpark in London. But it is welcoming enough and new additions would be great whereas fishy tower bank is grim and needs the new equipment now.
Straiton Place Park (Pirate Park)
Make better use of the space for older children too
Straiton Place Park (Pirate Park)
I think it is important to be inclusive and the accessible swings seams like a brilliant idea.
Towerbank Park (Fishy Park)
Most busy park out of the 3
Straiton Place Park (Pirate Park)
A good use of space and available funds.
Towerbank Park (Fishy Park)
This park is in desperate need of new play equipment but more importantly it needs resurfaced so that when children fall they do not end up with grit stuck in their cuts.
Straiton Place Park (Pirate Park)
Straiton Place Park (Pirate Park)
Towerbank Park (Fishy Park)
Best option.
Towerbank Park (Fishy Park)
The park is old and out of date. The pirate park has had a facelift fairly recently but this one hasn't.
Outdoor Gym at Straiton Place Park
It will give young people somewhere to go and something to do that is free and where they can meet friends.
Outdoor Gym at Straiton Place Park
A different offering to suit older kids and adults. The existing play areas are sufficient for little ones
Towerbank Park (Fishy Park)
It is very well used by older primary children and could do with upgrading. The straiton one for younger children has recently been upgraded, and I do not think an outdoor gym would get that much use in comparison
Outdoor Gym at Straiton Place Park
An outdoor gym would benefit young and old alike
Towerbank Park (Fishy Park)
For being on the promenade facilities there are not very good
Towerbank Park (Fishy Park)
The equipment in this park is outdated and could do with being updated. Some of the equipment is too easy to climb on in a dangerous way and this poses a risk both to the younger users and encourages older children to behave recklessly risking themselves and other children
Straiton Place Park (Pirate Park)
Outdoor Gym at Straiton Place Park
Straiton Place Park (Pirate Park)
Straiton Place Park (Pirate Park)
Because even wheel chair bound children have a right to play
Straiton Place Park (Pirate Park)
Its the closest to where we live
Straiton Place Park (Pirate Park)
I think that the park could be better for the kids with more things. I also think adult exercise equipment would good.
Straiton Place Park (Pirate Park)
Straiton Place Park (Pirate Park)
It seems just fair to have an accessible swing in Porty.
Towerbank Park (Fishy Park)
This park is great but it's needing new equipment!
Towerbank Park (Fishy Park)
Local to school. Near beach. Will be used by many different peoe from all areas viditing the beach x
Outdoor Gym at Straiton Place Park
Good to see something that can be used by older children, young adults and more of the community
Straiton Place Park (Pirate Park)
Looks good, especially for slightly older kids. More swings required.
Straiton Place Park (Pirate Park)
I think i looks like the most fun for kids.
Towerbank Park (Fishy Park)
This park is regularly used by a variety of the public. From tourists, locals and school children after school. But it is looking very tired now.
Towerbank Park (Fishy Park)
More accessible for larger amount of footfall
Straiton Place Park (Pirate Park)
Best use of space. Most for money
Towerbank Park (Fishy Park)
Option A seems more suitable for children 0-12. Children and their parents are often using parks and I feel it is a great source of entertainment for children.
Straiton Place Park (Pirate Park)
This park has plenty of extra space for the new equipment and is currently a bit sparse and only currently aimed at younger children
Straiton Place Park (Pirate Park)
Towerbank Park (Fishy Park)
Very out of dateCould an accessible swing be incorporated into this design
Towerbank Park (Fishy Park)
There should be concideration to an accessible swing or roundabout in this design. Glasgow botanical gardens has both in its small beautiful play ground.
Straiton Place Park (Pirate Park)
Fish Park is probably the most in need of an overhaul, but it needs a full overhaul, not just a bit of new equipment. A beach gym is a great idea, but it should be on the Prom, not where it's proposed. That leaves Pirate Park as the only option.
Outdoor Gym at Straiton Place Park
Would be nice to see more outdoor facilities for adults and teens.
Towerbank Park (Fishy Park)
The fishgate Park is in really poor conditions, but is used by hundreds of charities every day. I think more families would benefit from this option.
Outdoor Gym at Straiton Place Park
Already a good range for children
Towerbank Park (Fishy Park)
Play park most in need of upgrading
Straiton Place Park (Pirate Park)
Not so keen on outdoor gym as these rarely seem to be used
Straiton Place Park (Pirate Park)
Nice to include accessible swing. Pirate park recently upgraded but just not enough kit, so good to get one park up to scratch. Fishy park next time … Needs complete overhaul.
Picnic benches/ fencing also need repairs in pirate park, and landscaping/ maintenance of little mound.
Straiton Place Park (Pirate Park)
Straiton Place Park (Pirate Park)
Straiton Place Park (Pirate Park)
This is the park we use most often and i would like to see climbing frames for older children.
Towerbank Park (Fishy Park)
The park I most often use and desperately needs upgrading
Outdoor Gym at Straiton Place Park
Outdoor Gym at Straiton Place Park
I think this would be great for use by adults and older kids.
Outdoor Gym at Straiton Place Park
plenty of playparks and equipment for small kids already
Outdoor Gym at Straiton Place Park
It would encourage adults to exercise although probably weather dependent!
Straiton Place Park (Pirate Park)
This park is currently quite limited in what it offers unless you are a younger child. It would encourage families of all ages to go to the park. There are so many families with children in Portobello, it is more important that the parks are revamped rather than provide an outside gym.
Towerbank Park (Fishy Park)
The current park is tired and equipment in need of replacing and it's also very well used so council would get good value for money
Outdoor Gym at Straiton Place Park
teens would use this
Straiton Place Park (Pirate Park)
This park is in a bigger area and so can accommodate more children and carers. If the equipment is upgraded and appeals to more age groups then this park will be even better.
Towerbank Park (Fishy Park)
Think this park needs the most attention and modern design.
Towerbank Park (Fishy Park)
The oldest equipment and the most used park as its right next to the primary school. Also this end of the prom could do with some investment. It would be good if at least one of the swings was accessible. An adventure playground style wooden playground would be nice – see sciences primary school playground. Great the parks are getting investment but £35,000 for a couple of climbing frames and swings seems very very expensive – I would have thought both parks on the prom could be invested in with that amount of money?!
Straiton Place Park (Pirate Park)
Pirate park is a great location but has limited play equipment for children of older age groups. Difficult when you have 2 or more children of different ages. Older children get bored very quickly and at age 5 my daughter refers to it as the baby park.
Suggestion- I strongly believe that play parks in Scotland as a whole would benefit hugely from some sheltered areas, either for parents to sit (and shelter from wind, rain and sun)while children play or play equipment under shelter that can be used all year round not only when dry.
Towerbank Park (Fishy Park)
It's not changed since I was a child !
Straiton Place Park (Pirate Park)
Main play park in the prom lots of passing traffic but equipment in it limited and mainly suitable for younger children. Please replace the climbing part to the higher level part of the existing structure with something kids that aren't so tallcan actually climb! How many times have I lifted my heavy 3-4 year old up to the higher level!
Straiton Place Park (Pirate Park)
Need wheelchair equipment in this park
Straiton Place Park (Pirate Park)
Something for older kids.
Towerbank Park (Fishy Park)
I think that Mount Lodge Park is in Greater need of investment than any of these options.
Towerbank Park (Fishy Park)
This playground is the most tired and in need of rejuvenation.

One simple thing which would make a difference at the Straiton play park though would be a ladder for smaller children to climb the pirate ship where the three black balls are. That would transform it for smaller children and save parents from lifting children up over head height.

Straiton Place Park (Pirate Park)
Because there is a lack of play equipt for bigger kids in lorry, so the equipment here is needed. Also this park gets scoot more sun than the fish park so is a better park to invest in. And outdoor gym equipment rarely gets used, if ever!
Straiton Place Park (Pirate Park)
Portobello desperately needs new play equipment for older children. I was very disappointed that this didn't get voted in new park. Both parks really need upgraded (substantially, much more than suggested I think), but Straiton is a great location and the equipment is poor and really for very young children. There is very little for older children.
Straiton Place Park (Pirate Park)
Outdoor Gym at Straiton Place Park
I think it would be a well used addition to the prom and portobello and would mean people can exercise for free
Towerbank Park (Fishy Park)
Fish park is an accident waiting to happen, so dangerous for little ones that go after Toddler Hut and Nursery
Straiton Place Park (Pirate Park)
It's a great park in great location but could have more to keep older kids entertained. Updating this park would be a big boost for the area.
Outdoor Gym at Straiton Place Park
Fitness for adults
Outdoor Gym at Straiton Place Park
I don't recall this type of gym anywhere outdoors in Porty
Straiton Place Park (Pirate Park)
Fishy park needs resurfaced
Straiton Place Park (Pirate Park)
Space not used enough
Straiton Place Park (Pirate Park)
No other accessible equipment in porty
Towerbank Park (Fishy Park)
The equipment in Towerbank park is tired and some of it is broken. Lots of kids of different ages use it and it would be great to have equipment that caters for varying levels and more for them to play on.
Outdoor Gym at Straiton Place Park
I like the idea of the outdoor gym equipment and it creates more park play space
Outdoor Gym at Straiton Place Park
Good to have equipment for all ages
Outdoor Gym at Straiton Place Park
We need more free outdoor gyms for adults – they are common in developing countries and should be common here. Gym memberships are too expensive for people on low incomes.
Outdoor Gym at Straiton Place Park
C – this would provide something that would suit teenagers and adults alike, as well as possibly attracting people to visit the area and use other amenities.
Straiton Place Park (Pirate Park)
I'm really torn as I love the idea of the outdoor gym too but in the end I think inclusion of children with different needs wins my vote. Accessibility for disabled kids is important.
Towerbank Park (Fishy Park)
Fish park is desperately in need of refurbishment. It is so well used but the surface is rough, uneven and unforgiving if children fall over. Also the shelter could provide a nice space for picnic benches if properly cleaned and overhauled. The play equipment could be updated at some point but these other areas are in need of more urgent attention.
Straiton Place Park (Pirate Park)
Straiton Place Park (Pirate Park)
I feel this will be most used and add the the promscape.
Outdoor Gym at Straiton Place Park
The kids already have parks- an outside gym would encourage exercise and movement is vital for good health. Thank you
Straiton Place Park (Pirate Park)
On the Prom offen, this park in my opinion is in more need of an upgrade than the other one on the Prom. It will get more use here especially in the summer. It will also inhance the area when visitors come to the beach.
Towerbank Park (Fishy Park)
I use it more and it's very popular
Towerbank Park (Fishy Park)
Is it possible to split the money and improve all parks? Surly new climbing frame doesn't cost £35000?
Towerbank Park (Fishy Park)
It's busy park and current climbing gear seems to remember the donkey rides on the beach.
Outdoor Gym at Straiton Place Park
Would rather new facilities than replacing existing. Existing play equipment is fine, it would be wasteful to lose it
Straiton Place Park (Pirate Park)
Gives more play things for the children. Adult outdoor gym spaces aRe rarely used as far as I can see.
Outdoor Gym at Straiton Place Park
An outdoor gym would be good for older children and adults. The other parks cater for younger kids but its families of all ages that go along the promenade and live in the area. My kids had a great time at the parks over the years but they are older now and look for something different when we go to portobello.
Towerbank Park (Fishy Park)
Some kids of 2-7 can play on ropes are no good to small children
Straiton Place Park (Pirate Park)
i like climbing pyramids
Straiton Place Park (Pirate Park)
Additions for children and in particular those with additional needs is better than replacements and adult based equipment
Straiton Place Park (Pirate Park)
This would be a good addition as at the moment the options fir older kids are limited in the pirate park which makes it less attractive for taking older siblings even though the wee ones love it.
Outdoor Gym at Straiton Place Park
There is already plenty for children to do to play in the sand no less. Promoting a healthy lifestyle for youths and adults is also important.
Outdoor Gym at Straiton Place Park
Would be good to have some adult gym equpment near the Prom
Outdoor Gym at Straiton Place Park
Lack of accessible exercise equipment. Council run gyms are too expensive/ill equipped.
Outdoor Gym at Straiton Place Park
Towerbank Park (Fishy Park)
Lots of smaller children use this park and it would be good practice to update and make safe. I would also like to see an area for teenagers with bikes and skate boards….why have they not been catered for ?
Straiton Place Park (Pirate Park)
Straiton Place Park (Pirate Park)
Fishy park is the one that needs replacing the most but straiton place is Used more. If fishy park is picked then the surface of the park also needs to be changed as a lot of it is currently concrete and not great.
Straiton Place Park (Pirate Park)
Straiton Place Park (Pirate Park)
Who doesn't like a swing!
Outdoor Gym at Straiton Place Park
For older teens and adults this would really encourage wellbeing and positive engagement with the local area: I feel there is already lots for the wee ones but not much positive focus as they get older. We have a problem with older kids not purposefully engaged in the are.
Straiton Place Park (Pirate Park)
Straiton Place Park (Pirate Park)
Straiton Place Park (Pirate Park)
Most central location and think current park could do with being expanded. The new facilities would be appealing for older children-currently a park that provides for young children only.
Towerbank Park (Fishy Park)
More kids use it than anywhere else in Portobello. Will benefit more people.
Towerbank Park (Fishy Park)
This is the most used and most in disrepair. Outdoor gym equipment is too public in that allocated spot
Straiton Place Park (Pirate Park)
Outdoor Gym at Straiton Place Park
I think that a wheel chair accessible swing should be put in place anyway but an outside gym is something we currently don 't have in Portobello and it would be a welcome addition. Each project has its own merits however.
Straiton Place Park (Pirate Park)
Although I would love an outdoor gym, I think the accessibility included in Option B makes it the right choice.
Towerbank Park (Fishy Park)
This is badly needed. Current park is long outdated
Straiton Place Park (Pirate Park)
Pirate park currently has play equipment suitable for younger children. Additional equipment widens the age range and use of the park.
Straiton Place Park (Pirate Park)
Additional children's swings, playground equipment will be loved by my kids. Outdoor gym equipment rarely gets used, especially in Scotland, plan something useful, more is better, unless the fishy park playground is dangerous, then obviously, replacement should have priority.
Straiton Place Park (Pirate Park)
The fishy park may be old, but the equipment is really well designed for a whole range of ages. The new designs look far less accessible for younger children. Disability provision is something the community is still very much lacking, so some facility in the pirate park would be welcome.
Towerbank Park (Fishy Park)
Playpark has needed upgrades for several years. Older children (6+) need a playpark, pirate playpark already caters for younger children.
Towerbank Park (Fishy Park)
This park is in dire need of upgrade.
Straiton Place Park (Pirate Park)
Kids like the old climbing frame in the Fish Park. Don't replace useable equipment if you can add more play opportunity to the Pirate Park. Leave room for football though. But I also agree with other comments about Figgate Park / Rosefield Park too. The Prom is already great.
Straiton Place Park (Pirate Park)
Straiton Place Park (Pirate Park)
Like the idea of a wheelchair accessible swing and the park is well used
Outdoor Gym at Straiton Place Park
My Daughter put a thing on line applieing to have and out dooor gum in portobello think this is a great idear
Towerbank Park (Fishy Park)
Well loved and used play park and it is always busy
Towerbank Park (Fishy Park)
Very well used after school needs upgrading
Towerbank Park (Fishy Park)
Outdoor Gym at Straiton Place Park
There are no free outdoor gyms in Portobello, but there are four free children's playgrounds (Towerbank, Straiton Place, Rosefield Park, and Mount Lodge Place), and a new park at Treverlen – given the need for all age groups to get regular exercise, the current provision for young children only seems a bit imbalanced. And outdoor gyms are used by children anyway, just different things to play on!
Outdoor Gym at Straiton Place Park
c, got enough for kids, older folks need things as well
Towerbank Park (Fishy Park)
I feel that this is park is in the most need of a revamp and is the most visited. I can also take my 3 kids of all ages (3, 7 and 9) here and they all play happily together.
Straiton Place Park (Pirate Park)
There is a lack of play park facilities on the prom and I'm not keen on the proposed improvements to the fish park sir his is my preferred choice
Straiton Place Park (Pirate Park)
Towerbank Park (Fishy Park)
Very busy park and not great at the moment. Tink it will be well used by a big age range.
Straiton Place Park (Pirate Park)
illuminati pyramid
Straiton Place Park (Pirate Park)
Need play equipment for older children. Something like the parks in East lothian with zip slide etc
Straiton Place Park (Pirate Park)
There is currently absolutely no provision for disabled children in Portobello. We don't go to the pirate park as there is nothing suitable for her even though we pass it everyday . Heartbreaking
Straiton Place Park (Pirate Park)
Inclusivity and equipment for different ages
Straiton Place Park (Pirate Park)
Good use of currently wasted space
Straiton Place Park (Pirate Park)
The Prom attracts large numbers of children and families with little to offer younger ones apart from the obvious attraction of the beach. Better facilities would be good for residents and help to attract more visitors.
Towerbank Park (Fishy Park)
This is the primary park in Portobello, in my view, and improvements would serve both the local community and encourage visitors to the area with all the associated benefits. I know many families, including ours, who travel to the Meadows and the Links play parks in Musselburgh to enjoy the great play park amenities there, and the Fish Park could become a similar attraction. This would enhance the area both for the community and for local businesses and generally improve the city-wide perception of Portobello.
Towerbank Park (Fishy Park)
It has a great location but is very outdated: some of the equipment is a bit unsafe, rusted or incomplete. This makes it a far less pleasant space than it could be. The proposed new equipment would greatly enhance the park.
Outdoor Gym at Straiton Place Park
Gives all ages access to outdoor exercise
Straiton Place Park (Pirate Park)
Pirate park is a very popular play space/ meeting space for people with young children. The equipment is good but not adequate for the number of children in the space
Outdoor Gym at Straiton Place Park
Not enough fitness free things available for adults over 50
Towerbank Park (Fishy Park)
I think that this is the park most in need of investment
Straiton Place Park (Pirate Park)
Because of disabled facility
Outdoor Gym at Straiton Place Park
Straiton Place Park (Pirate Park)
This park is often packed out and more equipment would enable more people to use it
Straiton Place Park (Pirate Park)
A great opportunity to integrate children's play – children will be able to play together regardless of whether they use a wheelchair or not. Excellent idea.
Outdoor Gym at Straiton Place Park
Very little provided for teenagers and feel this option addresses this balance
Outdoor Gym at Straiton Place Park
It would be good to see an addition to the promenade for older children/adults as there are already two playparks on the prom. Something which facilitates health and wellbeing for free is to be encouraged.
Towerbank Park (Fishy Park)
I think it is better for the smaller kids
Towerbank Park (Fishy Park)
Towerbank Park could use some TLC. £35k seems like rather a lot though?
Outdoor Gym at Straiton Place Park
There are few facilities for older people and young people in the area, while there are lots of children's play parks. Let's make sure we cater for everyone!
Outdoor Gym at Straiton Place Park
The space is largely unused most of the time and it would add another option for parents with children!
Straiton Place Park (Pirate Park)
More accessible , better integrated into landscape.
Straiton Place Park (Pirate Park)
It's a much nicer outdoor space than Towerbank, but doesn't have enough equipment. Moreover, Towerbank's equipment is still in quite good condition.
Straiton Place Park (Pirate Park)
we have no accessible play equipment in portobello, even thought there are a number off children who are wheelchair users, they are currently not able to play with their friends and so are excluded form everyday life. making more accessibility is crucial (and is an inclusive thing to do as it can be used by everybody)
Straiton Place Park (Pirate Park)
This park is well utilized but needs more swings and innovative play. It's a huge social interactive space for all children and parents and needs more investment
Outdoor Gym at Straiton Place Park
There is quite alot of play equipment for under twelves but nothing for adults or teenagers. Encouraging fitness good for all ages
Towerbank Park (Fishy Park)
Think it is well used and in prominent position.
Straiton Place Park (Pirate Park)
This looks like the most useful new equipment. A shelter would be good too.
Towerbank Park (Fishy Park)
This ideal equipment for young children
Outdoor Gym at Straiton Place Park
It was a tough choice. But kids already have several play parks. I think it might be good for general fitness for adults to have something too.
Towerbank Park (Fishy Park)
The equipment in use at the moment is getting very tatty and the high volume of use merits better equipment for the children using the park.
Towerbank Park (Fishy Park)
This is a really well used park and the facilities in it are a little underwhelming compared to other parks in the area.
Outdoor Gym at Straiton Place Park
I think this would be very well used and cater for the many people who are not children who use the prom.
Towerbank Park (Fishy Park)
This park is well used but could do with a little modernisation. However, the money may be better spent in Rosefield Park. The prom already has a park that has had a decent amount of money spent on it. The play area in Rosefield could really benefit from £35,000
Outdoor Gym at Straiton Place Park
This type of equipment could be used by a wider range of the community
Straiton Place Park (Pirate Park)
I think this will allow families with a range of kids to use this park more. Fish park is not so bad anyway – and outdoor gym is nice idea but suspect would be less used. Think the Pirate Park option will benefit more people overall.
Straiton Place Park (Pirate Park)
There are no accessible amenities in much of Edinburgh in everyday park life for my wheelchair bound daughter – you should take a visit to 'THE YARD' in Broughton to see that accessible play is play for everyone.
Straiton Place Park (Pirate Park)
Although the fishy play park does need updating the equipment that is there already while in disrepair is more interesting for kids than that proposed. The third option seems like a waste of time.
Straiton Place Park (Pirate Park)
Straiton Place Park (Pirate Park)
There should be better provision for children with disabilities
Outdoor Gym at Straiton Place Park
This would provide additional park space not currently available, and provide something for other age groups.
Straiton Place Park (Pirate Park)
An accessible swing would be great. Also most interesting use of the money generally
Straiton Place Park (Pirate Park)
To enhance the park and attract children older than 5
Towerbank Park (Fishy Park)
The equipment is very out-dated. This is a park which is very well used.
Outdoor Gym at Straiton Place Park
Great use of lacklustre space, healthy and free to all, does not use all the space up. Please note dog issue in that at area and make this and remaining space dog proof.
Straiton Place Park (Pirate Park)
Fishy park already well used. Additional play area better
Outdoor Gym at Straiton Place Park
it is a new thing; suitable for teenagers/adults too; there are lots of other play parks for smaller kids already in the area
Straiton Place Park (Pirate Park)
Straiton Place Park (Pirate Park)
We are local residents with two children aged six and two. Our daughter (aged two) is a full time active wheelchair user. I would absolutely love my children to be able to play together they way they want to. Oona sometimes feels very left out and wants nothing more than to play with all the other kids, and they would love to play with her too. Please, please choose this option.
Towerbank Park (Fishy Park)
Equipment used a lot and a very popular play park for local young children and beach vistors. Current hardware very shabby and used.
Straiton Place Park (Pirate Park)
Would have loved to vote both a and b as the fish park could do with a revamp too. Voted b as the pirate park is the more pleasant park to spend time in and the updates will make it better for my older daughter meaning it will suit all my family.
Towerbank Park (Fishy Park)
Needs a facelift
Outdoor Gym at Straiton Place Park
something a bit different to what is already on offer and caters for older people too.
Towerbank Park (Fishy Park)
This area is a bit shabby and in need of improvement
Outdoor Gym at Straiton Place Park
Outdoor Gym at Straiton Place Park
There's nothing like this in the area, and it could be a nice new feature that encourages people to stay for a while, or increase the level of their activity.
Outdoor Gym at Straiton Place Park
Happy with play equipment at both parks, good to have some outdoor gym equipment to complement existing active use of prom/beach
Towerbank Park (Fishy Park)
The other options looks great, but the Fish Park is so terrible at the moment, it's replacement has to come first.
Straiton Place Park (Pirate Park)
The area is wider and would benefit from new games.
Towerbank Park (Fishy Park)
Really non of the options are ideal. The Stratton place park is best as a pre schooler park, safe from the big kids and introducing really complex equipment is unsuitable. The Towerbank park currently has good but old equipment so replacing this with equipment of an equally challenging nature is ideal. Will the swigs be kept? I hope so! The exercise equipment is perhaps in too public a space for people who are not confident exercisers to use.
Outdoor Gym at Straiton Place Park
Outdoor Gym at Straiton Place Park
This is something a bit more for older children. There are more than enough playparks for the young ones.
Straiton Place Park (Pirate Park)
It would be great to have a park which caters for both toddlers and bigger kids- this option provides this. The Pirate Park is open and well used so not prone to intimidation of gangs of bigger kids which is a major factor when visiting parks with little kids.
I like the idea of an outdoor gym but the concept needs to be developed further and integrated into current Prom usage so that it isn't simply neglected or vandalised.
Towerbank Park (Fishy Park)
The existing park needs new equipment
Straiton Place Park (Pirate Park)
Important to have something for over nines in Porty. There isn't anything at the moment.
Straiton Place Park (Pirate Park)
Straiton Place Park (Pirate Park)
good to have facilities for all children able bodied or not
Outdoor Gym at Straiton Place Park
This option would provide exercise for older children as well as adults. The children's park do need upgrading but Option C would provide something that currently does not exist.
Straiton Place Park (Pirate Park)
Outdoor Gym at Straiton Place Park
It is an innovative idea which could help adults get fit too
Outdoor Gym at Straiton Place Park
The other two park areas have quite well used and serviceable play equipment option C would add something
Towerbank Park (Fishy Park)
The Fishy park is in desperate need of an upgrade. Some of the equipment looks dangerously old.
Towerbank Park (Fishy Park)
This is such a popular park for TB kids and beach-goers alike – but it is in serious need of a facelift. The equipment is peeling, the overhang is smelly, and there isn't enough equipment for the number off children who play there
Outdoor Gym at Straiton Place Park
There are enough facilities and upgrades for children of primary school age – Portobello needs to be a more inclusive community rather exclusive. Outdoor areas such as these can be beneficial for older people too! As they are in China Japan etc
Straiton Place Park (Pirate Park)
This is a fantastic location and has a lovely grass, sand and synthetic surface. It just needs more equipment to make it a really good park for little ones
Outdoor Gym at Straiton Place Park
Caters for adults- no other similar provision in portobello
Straiton Place Park (Pirate Park)
It's really important to have more accessible facilities. The Fish park always gets vandalised, so new euipment there would just get ruined in a short space of time.
Straiton Place Park (Pirate Park)
Straiton Place Park (Pirate Park)
There are lots of play parks for small children it would be nice to have a park aimed at older children
Straiton Place Park (Pirate Park)
Think that it is badly in need of more equipment
Towerbank Park (Fishy Park)
It is a disgrace to call this a play park. Hard surface either tar or concrete whereas the whole area should be of a soft durable substance. Like something from a third world country and an eyesore on the prom. The children here deserve better.
Towerbank Park (Fishy Park)
The Straiton Park is badly maintained and full of rubbish . Some money should to maintenance. This park is in poor repair and I would support more equipment for children in either park
Straiton Place Park (Pirate Park)
Straiton Place Park not only needs new equipment , but it is essential work is done on the overgrown bushes, which are unsightly and provide nothing more than alternative toilet facilities. It would be much better if they were removed entirely.
Outdoor Gym at Straiton Place Park
Easy access for parents whilst children are at the pirate park and a great way to encourage exercise
Outdoor Gym at Straiton Place Park
There are alot of parks for children in the area already – and of course the giant sandpit that is the beach! It would be great to give something for adults exercising instead. Potentially sports clubs could come down to exercise here too
Outdoor Gym at Straiton Place Park
To be honest, I don't understand why £35,000 can't stretch to do at least 2 of these projects. It seems a lot of money simply to add some new kit and a surface. I like the gym idea as it will be a benefit to other age groups instead of just kids. But I think it should be placed at James Street where the prom is wider.
Towerbank Park (Fishy Park)
I think my son would like this best
Towerbank Park (Fishy Park)
The 'Pirate Park' was recently upgraded and does not require any more equipment at this time other than perhaps swings for older children. However, the 'Fishy Park' desperately needs a facelift since some equipment was removed and never replaced a year or so ago. It's also looking tired, fences need painted and play equipment is a bit neglected despite being very well used 365 days a year. Thank you.
Straiton Place Park (Pirate Park)
The accessible swing is what persuaded me. Much needed piece of play park equipment.
Towerbank Park (Fishy Park)
Being next to Toddler Hut and primary school, it is a much used space in need of a bit of an uplift.
Straiton Place Park (Pirate Park)
Both parks need invested in as there is barely any equipment in the Pirate park and the Fishy park equipment is dirty and old. I have used both parks for the last 17 years and there has barely been any change to them. Having a park like the Meadows for example would be a great boost for the community's children.
Towerbank Park (Fishy Park)
The whole play area is in deperate need of refurbishment including the surfaces. Maintenance of all City of Edinburgh parks is very poor. As is the cleaning of them.
Straiton Place Park (Pirate Park)
There is a real lack of provision of accessible play equipment in Edinburgh's parks, so, I'm choosing this option which offers improvements and new equipment for all.
Straiton Place Park (Pirate Park)
Not impressed any. Seems younger children over provided, older kids have minimal options, adult gymn equipment seems seems limited- mostly upper body. Fish park suggestion does not look like improvement.
Outdoor Gym at Straiton Place Park
We don't have enough outdoor free equipment for adults of all ages to use in our area. Good way to promote keeping fit and it's free to use for all.
Straiton Place Park (Pirate Park)
I feel that there's already enough equipment at Towerbank, whereas the pirate park could do with more facilities.
Straiton Place Park (Pirate Park)
Save money let parents pay for the facilities to be used by their children
Straiton Place Park (Pirate Park)
The park is well used at moment and has space for more equipment and children. This equipment will be well used and of interest to a range of children
Towerbank Park (Fishy Park)
My 7 year old child loves the current park but a revamp would be great, we are local and plan to spend many summer nights down the prom
Outdoor Gym at Straiton Place Park
There is already adequate provision for children and an outdoor gym could be used by adults and youths, who currently have poor outdoor provision in Portobello. This would also encourage healthy living, free of charge to residents and visitors. What an excellent assett this would be to Portobello.
Straiton Place Park (Pirate Park)
Outdoor Gym at Straiton Place Park
This is a facility lacking in Portobello
Towerbank Park (Fishy Park)
Needs it the most
Outdoor Gym at Straiton Place Park
Due to vandalism of older children & teenagers this part is seen by houses & will hopefully have a lesser risk of same. I do not feel there is not much to this Park & it is ill used at the moment.
Towerbank Park (Fishy Park)
It's my local and has been neglected
Outdoor Gym at Straiton Place Park
It'll be free and with the obesity crisis in adults this could only help.
Towerbank Park (Fishy Park)
Straiton Place Park (Pirate Park)
An outdoor gym would rarely be utilised. The play park at strait on place is extremely busy during the summer months and extra equipment there would provide improved facilities for children.
Towerbank Park (Fishy Park)
My daughter loves going here but it is very worn out
Straiton Place Park (Pirate Park)
Something for the older children, although some kids place football on the grass areas (most families have 2 children diff ages). Second option would be A (still usable but always the busiest playground for the kids), the wire net climbing frame is dangerous – bare wire through the rope (wear & tear) both children have cut themselves on this!
Towerbank Park (Fishy Park)
Straiton Place Park (Pirate Park)
This park is always busy and is a fantastic setting for family visits. More equipment would be well used and I like the more accessible aspect
Outdoor Gym at Straiton Place Park
Can be used by larger age range of people
Straiton Place Park (Pirate Park)
There is not much suitable for outside play for disabled children
Towerbank Park (Fishy Park)
It is so tiered. The paint has peeled off everything, there is broken and potentially harmful equipment. Straiton Park equipment is all in excellent order. Is it because Towerbank Park is at the "poorer" end of the prom?
Straiton Place Park (Pirate Park)
I think this park would benefit from a bigger range of play equipment for a wider age range, especially swings.
I don't think an outdoor gym would be well used.
Straiton Place Park (Pirate Park)
Fish park is fine for the ages that use it. But Straiton park (Pirate park) could do with an accessible swing, and presumably the beach wheelchairs when they come will be stored in the boatyard so it makes sense. Nobody needs an outdoor gym
Straiton Place Park (Pirate Park)
Of most benefit to range of children's needs
Straiton Place Park (Pirate Park)
Think this will be more used. Fishy park is still in good order and I don't believe and out door gym will be used enough.
Towerbank Park (Fishy Park)
A popular park for children.Adults can move around on their own to seek out equipment
Outdoor Gym at Straiton Place Park
Can be sued by all ages of community to encourage exercise and improve wellbeing.
Outdoor Gym at Straiton Place Park
No real preference. The options are uninspiring. I appreciate that £35K isn't a huge budget but something else can be acheived using a bit of imagination. Standard off the shelf items get damaged, wear out, and needs maintenance. Simple interventions using natural materials such as timber, boulders, tree trunks and sand can achieve a lot. I am happy to provide more examples offline. The outdoor gym is not a good idea – I think that people would not like exercising in public in such a visible location – people join the boot camp on the beach because there is a sense of camaraderie in group participation. It will also get damaged and need repairs / on going maintenance.
Outdoor Gym at Straiton Place Park
more useful to me
Straiton Place Park (Pirate Park)
Towerbank Park (Fishy Park)
Park is well used and could do with an upgrade.
Straiton Place Park (Pirate Park)
Better choice of equipment
Straiton Place Park (Pirate Park)
Straiton Place Park (Pirate Park)
Lots of wasted space in straiton park
Outdoor Gym at Straiton Place Park
outdoor gym equipment is not found anywhere else in Portobello and would be a welcome addition to the prom experience
Outdoor Gym at Straiton Place Park
Nothing like that nearby. Have seen in Lake District and it was much used
Straiton Place Park (Pirate Park)
Towerbank Park (Fishy Park)
Towerbank Park (Fishy Park)
The equipment in the fishy park is getting really tatty and it gets really heavy use from Towerbank kids before and after school and nursary. New benches would be good too.
Outdoor Gym at Straiton Place Park
It is something new for everyone of all ages
Outdoor Gym at Straiton Place Park
There are a number of playparks on the vicinity for younger children. This option will benefit older residents, some of whom cannot afford gym memberships. Many places now have these outdoor gym options and they are used by a wide age range of adults.
Towerbank Park (Fishy Park)
This is the most knackered space on the prom. But why can't there be the pyramid here too? I'm not sure why health and fitness for adults is in same category as upgrading children's play park.surely should be kept a toddler zone. The improvement ispretty uninspiring. Check Dunbar high wall garden and Glasgow botanics. We need safe zones for under twos. Why is the quarry not be turned into a super zone kids play park. Tones of unused space and equipment that's only safe for older children. We need the equivalent to the Dunbar walled garden in Porty and the quarry is perfect for this.
Straiton Place Park (Pirate Park)
Both the children's play parks need improved. But those outdoor gyms are useless. I have seen them in other parks throughout the country and they are barely ever touched. It would be a total waste of the money.
Straiton Place Park (Pirate Park)
It would increase the scope of activities at this point. It is useful here as it is a focal point on the prom due to the sailing club and cafes.
Straiton Place Park (Pirate Park)
The park needs more for older children. Options for wheelchair using children would be very very welcome also.
Towerbank Park (Fishy Park)
We feel the fish park desperately needs updated and a huge number of children play there, particularly after school. It would be a shame to build on the grass area of the pirate park as it's one of the few areas where children can run around or play football in a safe, enclosed area.
Straiton Place Park (Pirate Park)
This park has more space.
Towerbank Park (Fishy Park)
This play park is in dire need of refurbishment – although it is the surface that is the biggest problem. It is a heavily used park being so close to the school, but a very dangerous surface to house climbing equipment. I have witnessed a number of split heads there.
Towerbank Park (Fishy Park)
I feel that this is the park with most need of reinvestment. Disappointed by the rather unimaginative play structures though, would it be possible to build something more like a proper adventure playground albeit on a small scale?
Straiton Place Park (Pirate Park)
Equipment should "theme in" with the parks local identity and geography. Sea, pirates, sea mosnters – not jungle. Support an accessible swing.
Outdoor Gym at Straiton Place Park
Would be great for people who use the prom and beach for exercise. The promenade facilities in Granton are excellent
Straiton Place Park (Pirate Park)
The equipment at the Fish playground is really robust and still gives a lot of fun. Possibly more fun than the proposed change. But more play equipment in Portobello would be great. It's overrun by kids. The proposed equipment at the pirate playground would really extend the age range of kids who could use the space, which I think would be positive overall. The gym is great, but I don't think it would get as much use as kids' equipment — porty gym is v good and pretty cheap and very close. In the summer, to be honest, the whole green space could be a massive adventure playground at Straiton Place and it would still be completely full all the time — the demand is do high. I would love that.
Outdoor Gym at Straiton Place Park
There are no outdoor activities for adults in Portobello
Towerbank Park (Fishy Park)
This park provides a much needed amenity on a promenade long neglected by the Council
Towerbank Park (Fishy Park)
Loads of kids can use it at the same time and looks fun
Straiton Place Park (Pirate Park)
I think all three are needed but there should be more accessible equipment in Portobello and this park at the moment only really appeals to the under 5s.
Straiton Place Park (Pirate Park)
It increases the resources in the pirate park and makes it more appealing to older children.
I think permanent football goals and markings would be a better use of the grass opposite the pirate park. The adult equipment I have seen in other locations while being a nice idea is poorly used.
Towerbank Park (Fishy Park)
Badly needs upgrading -'Pirate Park' been recently upgraded.
Outdoor Gym at Straiton Place Park
Because it will mean you can get out more in a life day and motivate yourself to work out
Outdoor Gym at Straiton Place Park
prefered option
Towerbank Park (Fishy Park)
Fishy park outdated and possibly dangerous. Well used local resource with more benefit to community than other options.
Straiton Place Park (Pirate Park)
Pirate Park is very accessible when walking along the prom and providing equipment for children in wheelchairs is an excellent idea and the reason for my vote.
Towerbank Park (Fishy Park)
I would love to see small football goals erected on the path of grass away from the playing frames.
Hundreds of children play football in this park every week as its the only patch of grass to do so within half a mile radius of the pirate park (the large patch of grass next to it on the other side of the pathway is a dog toilet).
I know this isnt officially an option. However I feel this is rather short sighted and lacks understanding of how this park is used by the children that use it.
This is why Ive selected the fish park preference. I dont want to see the football being squeezed out of the pirate park.
Straiton Place Park (Pirate Park)
Option B would add capacity to the existing children's play facilities, benefiting more children overall. Second preference would be option A. Option C doesn't look worthwhile – that sort of equipment doesn't seem to get well used where it's been installed elsewhere.
Towerbank Park (Fishy Park)
This park is very well used, brilluantly located right next to the beach and is much in need of upgrading in particular the hard surface & inclusion of play acilities for disabaled children
Outdoor Gym at Straiton Place Park
There is nothing like this in Portobello
Towerbank Park (Fishy Park)
This form does not allow me not to vote for any option. I think the fish park is in dire need of improvement and needs something more than suggested here. Could we not have something on a par with the playpark in Musselburgh with woodchips and sand and lots of different equipment?
Towerbank Park (Fishy Park)
This will improve the park for children who use this a lot, especially in the spring/summer season
Outdoor Gym at Straiton Place Park
Preference for option c as an outdoor gym will be of value to a wider age range and encourage physical fitness and activity.
Straiton Place Park (Pirate Park)
This play park is well situated for use by local children as well as visitors to Portobello but it could do with more facilities.
Outdoor Gym at Straiton Place Park
Straiton Place Park (Pirate Park)
It's a good idea to have a park for smaller and bigger kids in one place for families who have small and big kids. Often toddlers go on the slides and there are 8 year olds bouncing around like idiots after filling up on cheap sugar water. Likewise, in the Fish park it's too big for the little kids, but when you have older children you want them to have fun on the grown up swings etc. A good balanced park is the best option.
Outdoor Gym at Straiton Place Park
More people can enjoy this equipment and improve their health and fitness.
Towerbank Park (Fishy Park)
The Fish Park desperately needs a full refurbishment, including resurfacing. However, some investment would be better than none.
Straiton Place Park (Pirate Park)
Difficult to make a choice as all 3 areas need improved. The 'Fishy Park' needs fixed, maintained and painted, but essentially the equipment is ok. The 'Pirate Park' again needs fixed, maintained and upgraded. The bushes at the back are full of rubbish and animal faeces, the gate needs fixed. The grassy area where the Bouncy castle is sometimes desperately needs utilised and would ideally be a recreational area for teenagers.
Outdoor Gym at Straiton Place Park
So people with no kids can enjoy open spaces and parks too. Improving fitness will help improve health, and potentially reduce the strain on our NHS. There is already a lot of kids play areas, indoor and out in this area already.
Outdoor Gym at Straiton Place Park
Would benefit everyone of all ages.
Not just a select view.
Environment friendly.
Straiton Place Park (Pirate Park)
The pirate park is often overcrowded and lacking equipment for slightly older kids
Towerbank Park (Fishy Park)
This park is so old and tired and needs something new for older kids. Pirate park is good size for toddlers and relatively new/modern compared to Towerbaknk park. Outdoor gyms are unsightly, never used and too big for the average adult to use.
Outdoor Gym at Straiton Place Park
Good for kids to enjoy and get Excersize as well Especially kids overweight
Towerbank Park (Fishy Park)
Park is very well used but needs updating. Local children and those visiting porty will benefit. If all options likely to benefit the most kids, and their parents and carers x
Straiton Place Park (Pirate Park)
I think this option is more versatile for the age range of children using the park.
Straiton Place Park (Pirate Park)
Straiton Place Park (Pirate Park)
There are lots of alternatives to options A and C but I'm not aware of any other accessible swing in Portobello and think that that need is more important.
Straiton Place Park (Pirate Park)
The current equipment is very tricky for weeks ones to manage on their own. Although the equipment at the towerbank playpark is dated there is a good variety of different types.
Towerbank Park (Fishy Park)
Straiton Place Park (Pirate Park)
accessible swing
Straiton Place Park (Pirate Park)