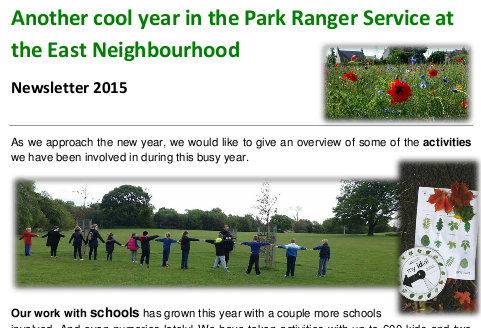 ​
As we approach the new year, we would like to give an overview of some of the activities
we have been involved in during this busy year.
Our work with schools has grown this year with a couple more schools
involved. And even nurseries lately! We have taken activities with up to 600 kids and two
entire schools celebrated their picnic day with us at their local Park (nowhere better!) That
means far more than 1000 kids from the area have been doing activities with us just last
year!
The range of activities with the kids at the park is huge: seeding flower meadows,
clean-ups, leaf hunts, bird feeding and watching, pond-dipping…
All the activities encourage the kids to improve their knowledge, engagement
and care about their local Parks. And of course have fun at the Park in a positive way!
Please see the attached Newsletter for much more information!

Park-Ranger-East-Newsletter-2015.pdf