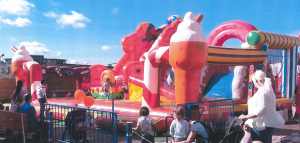 The Bouncy Castle in Straiton Place Park was granted permission by the Council to operate from 23 March to 30 April 2016.  The operator is now looking to trade on a month to month rolling lease basis.

The Parks Department has asked the Community Council for any comments on the proposal so we're keen to hear people's views.  For information, at the last Community Council meeting, a concern was raised about the noise being generated.
Update 11/4/2016: More than 100 members of the community provided feedback on the change of lease request by the bouncy castle operator. All comments were sent to the City of Edinburgh Council Parks Department.
Update 12/4/2016:  "Thank you very much for your comments and I will ensure that they are taken into consideration when the application to change the lease is being considered.
Suzanne Anderson, Contracts Officer,  Parks and Greenspace Service, Department of Place, Level 4, City Chambers, High Street, Edinburgh, EH1 1YJ
Tel 0131 529 7921"