City of Edinburgh Council Parks Dept requested public feedback on the proposed lease of part of Straiton Place Park for a bouncy castle, bungee trampoline, roundabout and refreshment stall for the period March to October .
People were asked to indicate their preference regarding the overall proposal, the length of lease and the proposed community benefit of the operator donating a % of his gross take to local projects.
A total of 234 responses were received and the results are as follows:-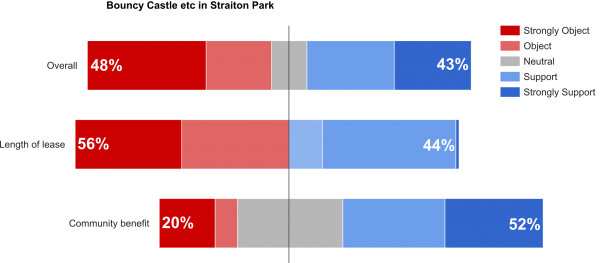 Comments
Seems very expensive and it's hard to comment on benefits when %is not stated
Is this a response to perceived demand?
Good use of space that is under utilised most of the time. Can see it being popular with kids. In my opinion it doesn't enhance the area visually and cost may put some people off.
summer months only
I was quite happy with the bouncy castle last year, and I would be quite happy to see it back. I am a parent of 2 young children and they both loved the bouncy castle. However, it was expensive enough, but I don't mind that, I think my kids were on it maybe 3 times over the summer holidays. However, that is enough, I am not supportive of a bungee jump and a mini carousel. I would be happy to see the bouncy castle back, but I don't think I would like this area to become more commercialised.
But what %age will go to community projects? If it's significant then this is a good thing. If it's 0.1%, then it's a token measure. I'd also like to see cheap local resident pricing so we don't have to have the daily argument again all summer of why we can't afford for the kids to go on it. 22 tokens for £10 isn't exactly a discount….
Too vague. Also refreshments stall in direct competition with well established local businesses
Reasonably happy about proposal but not if in evening . Also park needs regular cleaning and maintenance
My kids are not the right age for this type of thing – hence my neutral stance. However, anything which gets kids out and about is good, partly because it brings their carers out too and it geepnerates more interest in ll the area has to offer.
I do support more things to do along the prom, bringin back the old spirit of potty beach, however I feel it's a bit over priced £2.50 for a bounce on a bouncy castle is the most expensive I've seen!!
quite a high level of noise for those houses nearby
I believe the space would be better suited for a changing program of attractions to cater for more than just children. I also believe the licence should be restricted to the summer holidays. Although Portobello used to have a theme park and be a holiday town it is much more residential now and if the proposal went ahead as a very local resident I would be discouraged from using the nearby park, prom and beach.
Here are my comments.
"Although I have no strong objections to these facilities , despite them being no more than 50 yards from our front door, and visible from our windows, strict conditions will need to be imposed.
They should not start before 10.30 am, and close by 7.30 at the latest.
There should be no music or other accompanying sound effects. BUT.
The bushes on both sides of the park, adjacent ( growing out onto Straiton Place should be removed entirely. They continue to be used as an ad hoc toilet, on a daily basis, are a magnet for litter, are unsightly and require regular trimming , which currently only occurs once a year. And only then after many complaints to the council.
It would be visually and estheticallty much preferable if they were removed and replaced entirely with low maintenance gravel and shrubs.
It is ESSENTIAL that these bushes are removed once and for all, and my conditional support for this development is dependent on that. "
J
Better with a swing park. Far to vostly for psrents….
Ugly & dominate area no room left for young children to run around
Seems very expensive.
Having seen things like this, they often look tawdry and can be very noisy. The beach is victorian. Would be good to have something characterful as well as revenue raising and for children and familiesm is there nothing more characterfull/creative that could be done. Living next to potential squealing for 7.5 months also seems a nightmare! I don't but I feel it may be ill thought thru.
I think the cost is pretty high but there should be more use of the sand for activities too
What percentage of gross takings go to community benefit? What are the community projects that will benefit? What about dealing with litter from the refreshments? Also what is the price of the lease (and therefore the benefit to the community from the loss of amenity/privatising of the space)? If the wider benefit to the local community is appropriately covered I would be in favour of the proposal.
Parking issues
Duration – Simply too long. Needs to be balance due to nuisance and loss of amenity for local residents. Should be there for no ore than a couple of weeks at a time with at least couple of weeks between visits.
Power supply – Generator was an issue for the bouncy castle last year, this will be as bad if not worse. Lets should only be allowed once council install fixed supply for use.
Refreshments – Am opposed to any more outlets using disposable cups/plates on prom. Would strongly oppose on-site coooked food, e.g. burgers, being sold.
The bouncy castle alone was big enough for the area. Send it truly was the thin edge of the wedge and now a massive grab for more money making activities is going to dominate area. Can't really see how all 3 will fit on the space. Appreciate that bungee might appeal to older kids. Think there is no need for refreshments at all. Area is well served for such
Too long a time period. School holidays and identified weekends would be ideal. A specific and identify able % of "community funds" should be made specific tat this stage. 0.01?
Same fencing as previously used makes it look cheap and temporary. Would prefer a more permanent use of the space.
I think the installation last year make the space look ugly and the generator hum added to that. To expand it in size and length of time would not be good for the area. Fine for 2 weeks, then would be glad to see the back of it.
It's all to pricey because you get like 2 mins in the bouncy castle and for the price it's not worth it
If you are going to get it all there for that long then ur just ripping parents off because there kids will want to keep coming back but it's just to expensive
I live in Straiton Place with bedrooms facing onto the park, also living room facing the park. The noise from the generators will impact on our daily lives.
The traffic will have will increase in an already congested street.
(Local residents have not been notified of this proposal, not everyone is online to see the link provided by Portobello Online)
I think this would make a great addition to the promenade and highlight the seaside nature of the area and add a feeling of liveliness. But, for the people who live right beside the site and those who pass it every day for school / nursery, I think its unfair. Mainly because children will be constantly wanting to have a go and its not cheap (enough to make a very regular occurrence). And also the noise will be a bit much (I imagine) for those who live close by. The fence is really ugly and seems totally unnecessary / could be nicer. I would really welcome this at weekends / over the school holidays. Maybe residents could get a card or something that offers five free sessions each?
The community will benefit very little financially and the area will look far too commercialised. I would rather see boats out than loud music and bright colours of these things. The beach and prom should be relaxing.
Takes up a lot of the grass area which is heavily used during the summer for multiple uses. Also a detrimental impact on the grass long term which will die
I think the proposals are cheap looking and tacky. This area needs to be properly regenerated with a very attractive public open space adjacent to the promise that the residents of Portobello can be proud off. Something that is well used by residents and visitors and which enhances the promenade. It could incorporate a lovely garden/picnic area with a further play park for older children. The current playpark for little children has been a great success and attraction for families. The small landscaped garden further along the prom at John St is a lovely design solution which has stood the test of time. It has enhanced the promenade. As a community we have an obligation to make Portobello and Joppa as attractive and vibrant as possible.
I objected strongly to the bouncy castle. It was a complete eye-sore and was very expensive. Obviously parents could say no but it caused friction having to say no all the time because it was such a "rip-off". We ended up going home via the High Street! It was there purely to make money for the owners and contributed nothing to the community. If they wanted to run it why couldn't they go to the west end of the prom towards Seafield so people could go and find it rather than having it in their faces. I don't think it fitted with the atmosphere of Portobello. Also didn't like the way local kids were getting involved taking money etc. All looked very dodgy. There are also unanswered questions: how long do kids get for their £3 etc and also what % goes to the local community. Still think it would be better to have it towards Seafield and keep the central part of the prom free of fairground atmosphere and the noise that brings.
The present Bouncy Castle project occupies a considerable part of the park. Because that portion of the park has been open to use by dog-owners for bladder and bowel evacuation it has not been much used by parents with young children and so can be seen as of no great loss. I think that is a mistake.

To give over even more of a public play park to a commercial enterprise is hammering that wedge further. Commonly held utilities should be respected.

"a percentage of gross take" is a meaningless phrase.
Keep the space open & free for local and visiting kids to play football & run around on.
For many this seems ideal, however, it shows lack of consideration for anyone living nearby. I hasten to add that I do not.

To have three permanently sited there for such a long period of time would infringe on the lives of those around. A compromise may be a shorter lease and with the amusement rotating so there is never more than one there at a time.

The generator is also noisy even when muffled. I personally would not like to live next to something like that all day, every day for seven and a half months!
Wrong location, it should be situated between Figgate lane and Pipe Lane on the promenade.
I think the suggested use would make the area feel a bit tacky, and would support only a much shorter term lease for this use. I think a one month lease for July only would be a better outcome for the area. I would prefer the park at straiton was developed more tastefully, rather than used for a semi permanent children's fair. The rides described and pictured seem tacky to me.
I think it will make portobello tacky. It is also an expense many parents cannot afford.
This is a long lease for a temporary structure and removing grass playing area from the community as well as creating noise from the generator. A shorter seasonal weekend or other arrangement is more appropriate.
I don't like noise on the prom
I don't feel it adds much value to the area. It is also an eye sore and the generator noisy. It would ruin a lovely green park, with attractive housing around it. I would prefer something more restful like seating, maybe some shelter from the elements and provide a place to admire the view and meet people.
I think that area of park should be developed as a non commercial recreational/ play area for older children and teens as there is no other area on the prom for that age group. Also I would think that the constant noise of a generator on the immediate neighbours would be better awful for such a long period of time. I would support the idea for for holidays only.
The noise of the generator was irritating last year. The bouncy castle is big and ugly in my view. The bungee arrangement looks less objectionable and the roundabout looks much more acceptable. The whole plan is a jolly idea for a seaside location at the 'height' of summer, so maybe July and August, but 7 months is too long and intrusive.
I object on traffic grounds – but would support a shorter summer lease if parking was properly managed in the area. Parking on pavements is a hazard for pedestrians and other vulnerable road users. No new traffic generators should be allowed until the traffic problems in Portobello are sorted out.
expensive and tacky
Difficult for parents living in the area to fend off the constant demands to go on these amusements.
Distracts from natural environment
No easy access toilets nearby
Why not put them on the old portobello high school
We pickup our 5 year old from tower bank every day and walk home along the prom. Every time 5 year olds see the attraction they beg to have a go. Fine if you visit occasionally but not appropriate if we pass every day walking to school.
Seems a shame to give this land to someone to make money on activities the locals will not use regularly. Have the place as a free play area for children and expand the play park.
Major concern is the noise impacting neighbors and beach and prom users
The prices are far too high, that is my reason for objecting
The parking in the immediate area is horrendous at the moment, this proposed use of the space would be even more detramental to the area. The speed limit should be reduced to at least 5 miles per hour. Cars speed up and down Marlborough Street, Straiton Place, Regent Street, Bath Street, a 1 way system should be introduced as soon as possible before someone is killed or injured while having to walk on the road because of Cars or Wheelie Bins on the pavements.
I object on grounds of cost for user and of natural greenspace being taken over.
Doesn't leave a grassy area for children to play/ kick a ball et c. Don't mind some amusements but this sounds too much.
I agree with the principle of improving playground facilities in this location. But the costs are too much for regular use and I think something permanent and free is a much better solution. If this is to go ahead, then at least the community should get some money from it, ideally with the aim that something better for kids can be put in the park.
The prices charged are far to much, as per usual people ripping people off. I own a bouncy castle company and set up 12 different castles with bungees slides etc and charge £5 for 5 hours on everything and make money but what is proposed here is a pure rip off
There is no community benefit
Portobello already has an amusement arcade. The proposed is unsightly, tacky and using up precious green space that could be used for better things.
This is a public park and leasing it out for over half the year is ridiculous. Limiting it to half terms and school holidays would be appropriate. Last year's weekends and holidays was too much and created an eyesore as well as a nuisance for parents.
It is next door to a nursery who take the children past there on a daily basis to access the play park and beach. They also use that area for sports activities, teaching the children about healthy living etc. It is an essential and rare patch of grass for children to play football on etc. It is also on the school run, which means hundreds of kids walking past it every day. It is very hard to manage this with tired and unreasonable children at the end of a school day. It is very tacky and would be better suited alongside the amusement arcade. This would also help to spread footfall along the prom rather than bunch it up beside the cafes and pub. Could the area between amusement arcade and new apartment development not be used instead?
This is turning a piece of parkland into a commercial enterprise. Increased presence of users blocked the prom for others and made a dangerous point with cyclists. Herras Fencing was particularly ugly and the generator a noise concern
Impact on local residents far too high for far too long. This is a residential area and I don't want to LIVE in a FUNPARK. a couple of weekends, yes, two weeks at school holidays, maybe, but SEVEN AND A HALF MONTHS: NO WAY. The whole proposal feels grossly disrespectful to the needs of those who live here and who use the park currently. WHAT percentage to WHICH projects? — that aspect of survey meaningless bc impossible to assess. A bit of fun occasionally for everyone adds colour, this is just a massive financial benefit to the owner of the funpark equipment and massive massive imposition on us. We had this EVERY weekend ALL last summer and ALL last autumn, which was hugely disproportional already. The first free weekend was freezing weather and it was still SUCH a relief to be without the generator noise and to be able to see again. It is another neighbourhood's turn now. We've done our time.
I want to take my child to portobello to enjoy the beach and relaxing atmosphere. It's free! I don't want a toddler tantrum cause I prefer my child not to go on the rides. It also brings down porty. I don't want Blackpool!
I feel this lowers the tone of the prom and it should be a place where kids can play in the play park, enjoy the beach and not pester parents to pay for all these things. Too expensive and I also object due to the noise the generator will make fir local residents, for 7 long months.
I think that it is the only real green space left on the Promenade for kids to play on, have picnics etc. The Pirate Park is great for little ones but too small for bigger ones as well. It should be left as it is….
If approved should be sited in existing playpark that is already fenced off. Leaving grassed area available for general use. Temporary fencing is unattractive.
I think it should be school holidays only
Also any community benefits are outweighed by the fact I have to pass it twice a day everyday with 2 children and whilst they are good with no it's a shame it's not cheaper so I can say yes more often
What community benefits do the local residents get. Nothing but aggravation.
There is no community benefit.how much are the council taking in lease,rent etc
There is no benefit to locals, and it will impact usage of the existing play park and grass. Parking is also a strong concern- there is little enough parking on street as it is!
Wasn't sure of the answer to question three as obviously money to the community is a good thing. If the rides were all non-profit and all the profits went to replace the equipment at Fish Park and provide climbing equipment for the site in future years for the over nines in the community then I would not object to this proposal!!! However I strongly 100% object to it unless every ounce of profit went to children's play parks in Portobello and 2017 was the only year that the bouncy castle appeared! PLEASE PLEASE don't grant permission for this in Portobello. Please. If it has to be, then let it be for the two week Easter holidays and the six week summer holidays and that is all.
I think the garish element of these proposals spoils this section of the prom.The fencing was very ugly when last year's bouncy castle was in place. I think more permanent good quality play equipment would be preferable.
Tacky, noisy, ugly, deprives people of a nice bit of park (not everyone likes sitting on the beach to enjoy the area). The Heras fencing is an eyesore.
Why can't the waste ground next to the amusements be used instead of the only green spaces along the prom? Ridiculous proposal and strongly object. No benefit to community of cheap amusements.
This would be great for the school holidays but 7.5 months is far too long. Opinion was divided over the bouncy castle only for a similar time scale last year. A compromise should be reached again. The impact on the neighboring houses must be taken into account.
There will be no green area for local people, I understand that is the ONLY green area for local children to play football. They and other people will be EXCLUDED.
There will be increase noise with all these generators, people screaming.
No benefit to the community as it says zero benefit in the survey.
The image of Portobello is going down hill.
Prices of property will go down.
There will be increase of traffic, which is already a problem.
There will be increased rubbish, risk of vandalism, already a problem.
Have the immediate people on the doorstep of this been consulted, their opinion should be counted first and more seriously as they are the ones affected by this. Or are they not asked unless they investigate.
If so, the Community Ccouncil are not representing the local people.
I think that these are all incredibly ugly eye sores, which would cheapen the appearance of the promenade. It would also mean that the park could not be used by people who don't necessarily want to go on the beach. I think it would also be massively disturbing for local residents. I think there are most suitable places for this to where it is not so invasive.
1. The proposal will be an eyesore. It will deprive residents of their view, which they value. 2. It will create noise pollution and air pollution from generator.( Which will ruin residents enjoyment of their own gardens and outdoor spaces.). 3. It will increase traffic congestion, in an area where parking space is jam-packed, night and day.(This means cars prowl around in low gear continually looking for spaces and creating more pollution.) 4. It will deprive the community of an outdoor social space, which is used for both organised and impromptu events during the summer months.
5. I pity local parents, having these constant 'attractions', on the doorstep, as kids will be pestering to go on these expensive rides.
My son often works nights and the noise will be a problem. Also this turns community land into a private commercial venture. A public park will be fenced off for a substantial period in order to provide profit for private individual(s).
The park is a welcome green space in Portobello, in a beautiful location. I am supportive of making better use of this space: I would like to see the children's play equipment expand. I think the goal should be the Meadows east play park, which is a destination for parents and families across Edinburgh. While the funfair may seem a fun idea to some, the price is expensive for families who walk the prom most days and weekends. Furthermore, the equipment being discussed can easily be sited on asphalt paving – rather than ruining greenspace.
We need permanent good quality facilities on the prom not tatt
I don't think this is overall beneficial to Portobello despite the promised financial contribution the expansion from a single bouncy castle to more rides and refreshments is in my opinion not required.
I feel that children do not need such entertainment. For us it will spoil our trips to the beach with our 3 and 6 year olds as all they will want to do is spend money on the proposed equipment. Normally we love going to the beach for free and the children play in the sand or at the play park. They don't need extra entertainment; this would stop them using their imaginations and will always have a fight on our hands if we refuse to let them go on the equipment. I also think the sound of a generator will spoil the atmosphere of the beach area. Portobello beach is lovely as it is.
I strongly object to a 7 month lease being given for what is essentially the whole park area. When the consultation was carried out initially about the bouncy castle being in the area, the council decided that they should be given permission for use only at weekends, which seemed like a good compromise. My personal view is that this sort of thing is a complete eyesore (the garish plastic show-style entertainment, and the heras fencing that surounded it), and as a local resident I absolutely don't like it. However, I realise that others get a lot of enjoyment from seaside entertainment, and feel that some sort of compromise should be reached which takes account of different people's wishes, and leaves the space available to those of us who like peace and quiet, for at least some of the time.
If there is an expansion of this sort of entertainment, it will by it's nature encourage more families with children into the area. Increasing the entertainment available on the site will mean more people are there for longer. This is likely to increase noise in the area a lot, both because of the people, and the machinery. Will there also be music on the roundabout?
One of the reasons I chose to live in Marlborough street is that it is generally very peaceful. Seven and a half months of daily extra noise seems pretty intrusive on my lifestyle. I like that fact that there is a small bit of green space at the bottom of the street which is generally quiet. I would lose that amenity completely with what is proposed here.
Having tea/coffee etc on sale is also highly likely to increase litter in the area.
Donating 'a % of gross takings' is very vague to the point of being meaningless. While I'm in favour of local projects gaining some benefit, they should be giving a projected figure. And information on who decides what local projects will benefit would be helpful
It would spoil the prom and also generate a lot of noise, especially since the proposed site is adjacent to the play park used by very young children. This also will cause a large number of people congregating in one area.
This will be a complete nightmare for the people living in the adjascent houses, what with the noise, being over-looked by people bouncing etc. It changes the character of their homes and I would have thought reduces the value of their houses. I've been put off by the more limited use currently, and what is being proposed is even worse.
It turns the area from a quiet place for people wanting to take a stroll and enjoy the peace and the view into a noisy fun fair.
As for the community benefit, this is essentialy a business wanting to make a profit, offering a percentage of the take to make it more acceptable to the council. What about the community benefit lost of being able to walk and sit quietly along the promenade and watch people on the beach in their boats?
Pleae, please don't!
I don't think this would attract the right sort of people. We don't need a permanent place for a showground. Plus extra noise.
This proposal mainly benefits the commercial enterprise. It is expensive for young families and is taking up prime green space on the prom. The space would be better used for the pleasure and recreation of all different ages. There was a bouncy castle on this sight last summer. It was generally under-used and deprived others of green space on which to relax, play games, enjoy the views, etc.
Can the proposal find a different sight in portobello , Joppa ? There is already huge congestion , noise pollution from all the activities in this area ..straiton place , bath street etc ..could the proposed beach side entertainment not be moved along towards kings st or towards Joppa ?
The bouncy castle was a complete eyesore when it was in place over the summer and very expensive. Portobello prom is a lovely place to walk along and is starting to feel like a proper city prom with nice parks (although they still need a lot of investment) and lively places to eat & drink. It has a great atmosphere- this proposal would entirely detract from this vibe and would make the prom look tacky when a lot has gone into making it a more attractive place to visit i.e. A more permanent version of the meadows summer festival. The section of the prom towards kings road is the less salubrious area with the amusements and to establish a burger van theme at the other end would ruin it.
Why can't we have better play parks for the children such as the one at the meadows that we don't have to pay for?
No information is given about the % that would be donated; could be tiny!
This lease would be of detriment to the community because the grassy area on which the carousel and bungee would be placed is currently heavily used by children for game playing, especially football. It seems wrong to me to lose a rare grassy space for the local children – the nearest other place to play football is only reached by crossing busy roads – even if the money generated benefits the community in part. I think encouraging physical activity should be a higher priority to encouraging money-creation.
Noise nuisance for surrounding neighbours. Traffic congestion. Presumably there will be music from the roundabout – what noise levels will be anticipated? Refreshments option will take custom from adjacent existing local traders. It was intrusive enough having the bouncy castle for odd weekends….months on end is too much.
The park is in the Portobello conservation area and the installation of plastic structures contravenes the residential and general amenity of the area. The local children hold games and sports on the park in summer and this would not be possible. The proposal is generally appalling and a nuisance bringin visual harassment and further litter. I oppose the proposal. The sop to paying something to the local community should be high 50% of revenue if approved.
Given the sharply divided views on the 2016 planning application for what was a smaller development of shorter duration, it's very surprising to see this is even being proposed. It comes across as if the community's compromise of last year has been rewarded with a much more aggressively commercial scheme: bigger, louder, longer – effectively semi-permanent. Of course that's good for this particular business, but I'm not sure why individual gain should come at the cost of the wider community benefit and the loss of scarce public greenspace?

There is a great deal of goodwill, even among people who would prefer not to have this development, *IF* it had been confined to a few weekends in the easter and summer holidays. That would be a reasonable planning request to make of the community and proximate residents – mild inconvenience for a few but with the bonus of a lively resort feel for summer weekends.

This scaled-up proposal, however, presents an unwarranted imposition to an area already beset with traffic and congestion problems, lack of parking, frequent road rage in summer as drivers navigate the single lane of Straiton Place in order to pick up and drop off at Seabeach Nursery or go to the swimming pool. To permit this development for over half the year would be to wilfully ignore the attendant consequences: increased noise, traffic, loss of visual amenity (unsightly construction NAS fencing for over half the year? really?), not to mention the precedent for the commercialisation of this space. It really represents the loss of a park in the primary months in which it is used.

In short, a bouncy castle for easter and summer weekends in summer is okay but an expensive private, leisure park is not reasonable. As for the 'sweetener' of a donation to some local good cause, this generosity might be taken more seriously if either the leasee or the council had made effort to return the park to a decent grassy state last summer. They didn't.
Access to the site would mean increase in traffic and result in congestion in the already narrow streets of Marlborough, Regent, Bath and Bellfield street. The weather in March & October is usually cold/wet etc and would not attract visitors to the site. Additionally residents would be subjected to the generator noise and resultant increase in litter etc.
It will spoil the peace and quiet of the beach, seaside and the play park. It will totally commercialise the area, our children are facing too much commercialism and consumerism in the modern world as it is. Please don't take away the simple pleasures of a walk along the prom; a quiet seaside picnic or a play on the beach or play park. It will inevitably lead to pester power by children, therefore pressurising parents who are already managing very tight budgets. The east end of the promenade is commercial enough with the amusement arcade. There are plenty summer fairs, fetes and the festival itself when kids have the opportunity to be 'entertained' by bouncy castles and rides. I have friends with two small children who live next to the Portobello Swimming baths, their life was made a misery by the presence of the bouncy castle rides for the weekends they were permitted last season due to the noise and constant pester power. This is total unnecessary. A better focus of the community council's attention would be on campaigning for the replacement of the lost public conveniences along the promenade, the lack of public toilets remains a total and utter disgrace.
It is too much for the small open space available.
Inappropriate in this seaside area . The grassy area should be left as it is so that families and children can use it for quiet leisure as it has always been . Strongly disagree with it being used for one company to make a profit . Also concerned about the noise level to the surrounding area including residential housing .
Horrible to turn space open for ball games, picnics and cost-free local and family recreation into a for-profit facility, which is also noisy and ugly
We are losing a public park area – move it to the car park next to the soft play area. We asked for the fencing to be changed to the smart fencing being used uptown for the festival. The coffee tea is in competition to the green van.
it was an eye sore last year and it sounds like it would be bigger this year therefore more off an eye sore than previously
We currently have good and free play parks in this area. This will be a noisy and crowded addition to an area currently suitable for safe play for small children. It is also an obvious attempt to catch children on the way to and from school and pressure parents into paying for rides. Unnecessary and will cause distruption.
I would like to see more diverse use of this space – there are already amusements on the prom offering the more traditional form of seaside entertainment. it would be great to offer this space up for lease providing a brief that included, some activities that are free of charge, something that reflects the heritage of the area, it would be brilliant to see something that encouraged the love of wild play, natural spaces, healthy activities etc…. I think looking at the north Berwick seabird centre, the Dunbar swimming pool, the ratho climbing centre would all offer a better start to thinking than quick and tacky money grabbing entertainment like this option.
I think this space should be maintained as an amenity to benefit the whole community not annexed off to paying customers.
The bouncy castle is a garish eyesore which covers one of the few green areas along the prom and has badly damaged the nice green grass and the area beside the tasteful children's playpark; the constant buzz of the generator is very annoying. If it has to be allowed then it should go on the derelict concrete area beside the toilets where the Amusements area used to be – it would at least not damage the concrete in the way that it is currently damaging the public grass. And it would keep it away from the bandstand area.
I would much rather see this space used to promote greater physical activities for a range of people in our community. I also think that the bouncy castle etc is unsightly and unsympathetic to the beautiful vistas along the prom.
We have a most beautiful prom and beach. Our children can play imaginatively within this environment. Families can play together, create their own games etc. interacting with each other. If these commercial activities are there it causes friction in families with children attracted to the bouncy castle etc. and parents worried about the stress on their family budget. The atmosphere created by these colourful, noisy expensive activities detracts from the natural beauty of the area. There is already a large enough amusement area on the prom.
Having expensive manufactured amusements will be very trying for families who can't afford them. The beach, prom and play parks provide very good facilities particularly if the play parks are improved.
Parking is already a serious issue in this area and surrounding streets, with out this activity. Last year noise day in day out was also an issue. The bouncy castle was tacky and damaged the grass, it has yet to fully recover! A kids play area is available on the other side, this is not the area for the proposed venture. Surely by tumbles is a better location. I think it is only fair this area is made into a dog park (like the one on leith links), so dog owners can let dogs off leads without the threat of small kids and left over food inc chicken bones, both an issue on the beach particularly in summer. As a resident on Marlborough street, I do not want to see this kids play area on this proposed site. Please listen to the local people. Thank you
What community benefit zero
The immediate people who would be next to this would be severely disrupted by noise from 3 or 4 generators, people screaming.
There would be increased rubbish, as there is already.
Increased traffic.
This area I understand is the ONLY green area for local children to play football or for local people to sit on grass.
This will leave local people with NO GREEN area.
There will be major to the park , it has not recovered yet from last year and will not have recovered by March.
There will be increased pollution, so will not be environmentally friendly.
Is this the future image for Portobello, I pray not.
House properties prices will be seriously affected. Will the council compensate property owners for this.
The image of Portobello has taken years to improve and now this. Is that what the Community Council think Portobello deserves. I as a local person think not, but as I am to be seriously affected by this every day it is there my opinion counts no more than someone 20 miles away visiting once. Thanks local council for the lack of thought there. Not.
There is no mention of times or days, I wonder why.
Who will clear up the extra rubbish, the local tax payers.
Will the increase traffic to lead increased road restrictions for local residents in order to benefit this.
It's a shame Portobello has decided to go down hill this way to benefit show ground people when local residents are always asking for user friendly park area, and a dog free zone.
Show people who are there for there own gains (quote zero % back to the community) are fine short term in the festival time but not long term disturbing local residents.
Eyesore on the park. Heras fencing is a horrible temporary eyesore. Reeks of cheap fairground. Not right for the area
Object to lease. Precludes other spontaneous use of the this area by boys and girls who wanting to play other games, and already limited space of local public art projects, local events, etc. Important to preserve this community space and not be tied up with commercial use. Tumbles provides excellent service for this age group.
As a concerned local resident, I object strongly to this proposal which is ugly, noisy, garish and detracts from the overall aesthetic and amenity of the Promenade. I have already objected to this and received no feedback from the council. If the Council again overrides the wishes of the local community I will certainly be lodging a F.O.I. request to ascertain the basis upon which such decisions are made. I have also written to my local councillor to object to this inappropriate plan.
The amenity, polluted the playground and promenade last summer with fumes and noise from the generator.If such facility is needed I suggest that it is moved to the wasteland adjacent to the amusement arcade beside the old kilns. The power for the inflatables could be sourced from the adjacent local supply to the Council toilets which I assume will be reopened for the duration of this proposed summer lease.
This tacky fenced off area will do nothing to enhance the area. More likely to bring it down.
This was already discussed and a compromise between residents and operators found that respected the differing opinions in the community. Dissapointed that the operators are now pushing for more.
Not enough community benefit. Too expensive for parents and using grass that kids do actually use for football and other free activities
No thanks
I think it is ugly, noisy and detracts from the amenity of the area for residents.
Putting a semi permanent structure on our parkland effectively prevents residents and visitors from enjoying a grassy picnic/sports area.
Additionally to this the structure was loud, and expensive to use, when previously installed, which is also detrimental to enjoyment of the local area.
The beach is there for all to use and why we visit the seaside. I highly object to a cost implication,noise and parking implications
I visit the beach weekly, as I have to small children and enjoy the prom for it provides swing parks and space to cycle, scooter, skate etc. Whilst the kids would enjoy this facility, it would be a constant battle to not slow them both on the rides. It would also be a gathering of people in one area, with likely overcrowding in summer months. If this was on for a month, then fine, but to face the cost of two kids and all the rides every week would deter me from taking them there. If we go want to go on rides there is the arcade. If the site was moved to the arcade end if beach then fine because you can choose not to go past that. However the site proposed is centre to where kids will be and have sight of.
This is an area of public green space that should be left as a public amenity. It will attract more traffic in an area already bursting with parked cars. There are already numerous outlets close by selling refreshments.
I live near portobello and my children go to Towerbank school. I want to be able to walk along the prom and enjoy the FREE things like parks and nature without my children nagging at me to SPEND MONEY!!! Last year this was a daily struggle that I CAN DO WITHOUT!!!
Previous incarnations have been expensive unsafe and poorly managed
As a parent who will have to walk past this everyday, I will have constant requests to buy tickets s from our children. This is not good for the community and their children.
Good old fashioned seaside fun. No noise or disruption to anyone.
Great to have some attractions on the prom
A seaside resort should have fun things for children to enjoy . I have nothing to object about this.
I think we need to remember that the beach is a public place, not our private domain. Noise, crowds and everything that go along with that are part of living on sea front. Safe places for children to play outdoors should be encouraged. The prices aren't drastic either. Compare this with 'up the town' winter festival charges for kids.
Operation was we'll run before and proved popular.
Currently unutilised space which will benefit from an 'attraction' to bring custom to the area.
Portobello is a seaside town. This is what I would expect to see in a seaside town.
Need more for kids at porty
I think, being a seaside town, Portobello needs attractions like this. I hope the % of taking which goes to local projects is significant. Perhaps Save Bellfeild or a local youth club could benefit?
The Prom is for all and having some space for small kids is vital to this. It will provide a focal point around the cakestand area and bridges between the swimming pool and beach house area. More areas should be leased for coffee vans, food etc to make it a year round destination
Great idea , make it more of a seaside town and somewhere for people to visit
I think it would be a fantastic addition
Great for local kids (I am a parent) but most importantly tourism which supports all local businesses and can only improve the area for all.
Would be a great addition
It would be great to bring back the seaside town vibe.
I strongly support increasing / improving the amenities provided for visitors. Pity the contribution from the operator wasn't available to support the Joppa public toilets!
This will bring footfall to portobello who will spend money on other establishments which can only be good for porty
This is a business providing an attraction that is aimed at young families. I was extremely disappointed at the restrictions placed on the bouncy castle last year. When it was there it added a bit of colour and a buzz of excitement for young children. I am in my late 50s my children are adults so I would not use any of these attraction but it was nice to see parents and youngster enjoying the bouncy castle. No reasonable person could see any nuisance in these attraction, young parents and small children are not going to be causing any nuisance and I strongly support this application
Fits with history of area as a seaside holiday destination, obviously the neighbours might object, though, a shorter lease might be a compromise.
I think the bouncy castle adds to the prom and the children absolutely love it.
It should be for the business to decide its own CSR spend and suspect have only done this cos the local area has some real vocal moaners who have made them feel bad. They offer a product, people buy it. It's fine. If they want to give back that is for them to decide.
Portobello is a seaside resort and visitors from far and wide should have lots of options for enjoying a day out here. The number and quality of pubs and cafes is improving well, but there need to be other things for visitors to do – especially out-of-the-ordinary things like this. Plus, the operator should not be restricted to weekends as last year, but should be allowed to operate seven days a week, to make the most of our unpredictable Summer!
I recall a local resident objecting to the Edinburgh Military Tattoo a few years ago, but *that* hasn't closed down, or been restricted to weekends only. Likewise a seaside attraction in Portobello should not be hobbled by local killjoys who don't want to share the pleasure of the seaside with others – should there *be* any such killjoys.
Lovely, traditional seaside activities. Great for locals and visitors.
I think this would be a useful attraction to bring in families and visitors during the summer
It's a great idea to use this area and attract people to portobello regardless of the weather.
This was extremely popular last year and made this space lively, family friendly and seem special for the summer. Also brings people to the are with associated support for local business
I think much of the park is space only used as a dog toilet and needs a greater purpose as the park is very limited at present for the number of kids that use is. It was great to see the bouncy castle last year and it added a lot for the kids of Portobello and the surrounding area. I know there is objection to this from certain individuals in the community but our kids used the bouncy castle last year and it is something that we, as a family, would support in the future.
A welcome addition to the prom for kids
Integration and great community development opportunity
I think that this is a welcome addition to the promenade. We market Portobello as Edinburgh's seaside and it is not unreasonable to expect such attractions. Indeed, similar exists in North Berwick outside the Sealife Centre. It is up to parents to take or leave it. In my experience of this last year the operator was personable, attentive and was very flexible in terms of giving the kids a little extra time. His equipment was well looked after. There is nothing tacky about it.
Seems like a nice idea
My son loves this and would make a walk to the beach and fresh air a more frequent thing. It can only be good for the community and local businesses. Strongly support
Kids and fun
Adds interest to the beach
Portobello needs life back into it
Would not like to see a burger van type operation .OK with drinks hot and cold and children's treats
I'd support this as long as appropriate measures are taken to ensure the impact on neighbours is taken into consideration.

Also a robust and enforceable agreement around returning the park to current state at end of lease should be agreed.
I think its a good idea to bring shows back to the community, just a bit expensive rates as ive 3 kids and there only on things for 4-5 minutes sometimes not even that
Three pieces of equipment is too many. The roundabout would be in keeping with the heritage of the Prom and either of the others would encourage exercise in children. However, I do support the idea of having something of this nature on or near the Prom as I believe it will encourage families to visit and make use of this valuable asset.
It's a piece of ground that is mostly used by dog walkers at the moment. Our kids loved the bouncy castle when it was there this year. I think it helps sustain the prom.
Think it's good for the community if priced well for the area.
I would like to think that the community benefit would be substantial
Good use of space, very little on the prom at present. Support this idea very much
Seems a bit old fashioned but overall in favour of activities for children in the area.
Good to have more for children to do on the prom, especially in the summer months. Should help attract visitors with families too.
Useful attractions for children
Funds should go to community festive lights programme to be managed by the community and administered via the community council
My kids enjoyed the bouncy castle in the summer last year.
The percentage needs to be said beforehand…
What harm is it to have this there. It will encourage visitors to the area.
If local parents would like this addition and local residents at Straiton Park can live with it , if parking is available then why not go with it for a season and see if it works?
NA
The project will make a profit from local citizens so it is only fair that the community should benefit in return.
Portobello has a strong sense of 'family life' which benefits a sense of community. This would be fabulous draw to get kids outside and socialising, without it the entertainment draw is the penny arcade which needs something to balance it, this would be ideal. I think it would promote healthy economy drawing people from the city too.
Seems a reasonable use of a small par area that is not over used at the moment. The prices seem a bit steep though given that the users will be youg children.
doesn't seem necessary for this to run through Oct – would suggest finishing on 30th Sept instead
Glad that prices are lower since site set up costs reduced as no longer just weekends. Lease should include their returfing for the winter, and a better looking fence- heras not appropriate to setting for this timespan
I think it would be good if the applicant could find a more permanent power supply. It wouldn't cost much to have a power supply fitted to the wall of Seabeach Nursery. The applicant could pay the nursery for the supply, which would probably be cheaper than running generators and would generate income for the nursery. It would also bring significant environmental benefits.
I feel like portobello is missing decent kids attractions and these are exactly the type of things you'd expect to find when visiting similar areas abroad.
Lots of families visit the beach during the summer so I think this would be fun. Maybe a shorter period would be more acceptable to local residents.
Encourage outdoor children play and visitors to Portobello.
Do think there are now enough refreshment facilities in the immediate vicinity.
Think it's worth a try would complement the beach activities especially if the weather is good
Which community projects will benefit? Three items + refreshment is too much – support two items maximum and no refreshment which would impact adversely on present traders.
Already the beach and promenade are well used by parents and grandparents with children, and this proposal would attract, probably, even more families to Portobello. This can only be a good thing, both for the area and for families. I do think consideration should be given to the provision of first aid facilities, and some sort of supervision by a site manager or similar. Additionally, adequate toilet facilities must be available. Parking in the vicinity is already difficult, and the influx of additional cars could be a major problem. Local residents' parking must of course be assured, clearly signposted and marked, and I do think a professional traffic management system should be a priority, perhaps a one-way system down Bath Street, along Straiton Place, and up Bellfield Street?
The piece of ground in question is basically used as a dog toilet as it stands. nobody really uses it. So I think its quite good to have the attractions there. I'm a bit concerned about pricing – If it is going to go ahead it should be worth the money for parents. Basically, Portobello is Edinburgh's seaside and i cant see any reasonable objection to seaside childrens attractions on the prom
This will add to the seaside gaiety of life over the Summer
–
Encourage holiday makers to spend more time in area. . As at moment there is nothing
enjoted taking grandkids
I think it is a lovely thing for the holidays and weekends but not for the proposed length of time. I think that it is quite an garish instalment for such a long time as well as expensive for families for more than just holidays and weekends.
More activities for children to take part in.
Good use of ground which is lying empty
It will bring some much needed life and entertainment to the beach area. The childrens play parks are a disgrace
My grandchildren would love it, and it should attract visitors from outside the area, benefiting local traders.
I think this is great idea for holidays but I don't know how successful it would be running every weekend. I think people will object to it being so close to the playground.
i think this is a great use of the place. the beach is a great attration for local people but also visitors so having more to do that build a sand castle or play in the VERY small limited playpark can only be a good thing for the local businesses!
I think it will be good for the kids.
We have enjoyed the Bouncey castle on the beach in previous summer months. The gentleman running it was friendly, polite and great with the kids. If this is being doe in a similar way I have no objections
Good to have more attractions in Portobello and if it helps someone to make a living then that's good. More detail on % for community would be useful? Also have reservations about a) Ugly Herras fencing, b) safety of inflatable in high winds and c) impact on outlook of homes in Straiton place.