With more than 10,000 living in the Portobello Community Council area, the City of Edinburgh Council is paying less than a penny per month to hear from residents here.
Does that represent fair value?
Portobello Community Council is funded by an administrative grant of £900 from the City of Edinburgh Council, however this grant does not cover the regular outgoings of the community council. There is a structural deficit, of £200 per year, and only a generous donation from a local business has kept the community council solvent. Community councillors are unpaid volunteers.
We pay for hall rental, web hosting, consultation software, insurance, project management software and registration with the ICO. These are all essential for the community council to fulfil its statutory role to "ascertain, co-ordinate and express to the local authorities for its area, … the views of the community which it represents".
What is the going rate across Scotland?
We asked the Improvement Service (The national improvement service for local government
in Scotland). They did not know. So we investigated the administrative grants to community councils from each of the 32 Scottish local authorities.
The results show a wildly different picture across the council areas. Burrelton & District Community Council in Perth & Kinross received just £45, while Lerwick Community Council received £21000. The sum of all community council administrative grants across Scotland totals just over £1 Million.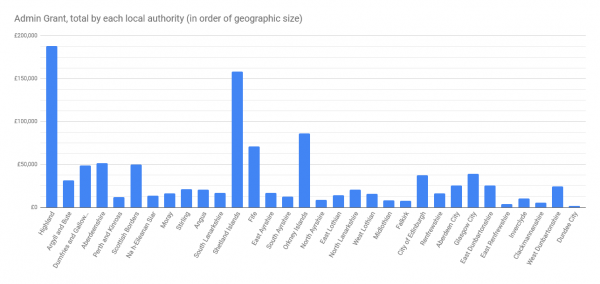 Both population and geographic size of the local authorities impact the administrative grants. However if weighted by population density then it becomes clearer which the local authorities with larger grants are: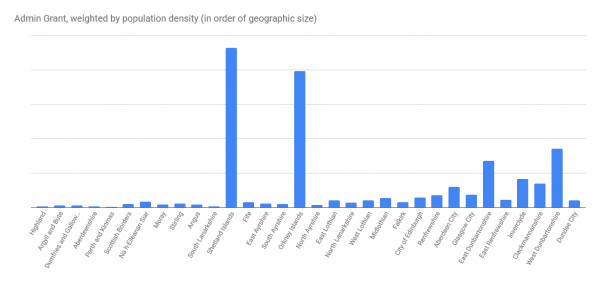 Clearly both Shetland and Orkney prioritise community councils significantly differently than other councils.
Where next?
The Scottish Government's Democracy Matters consultation is asking the public whether and how they want greater local democracy in decision making, and not only in terms of consultation.
They note that: "There is a growing recognition that it is often better for decisions about the issues that affect different communities in Scotland to be taken with more active involvement of those communities".
If you want to give your views on whether funding of community councils is adequate, and on whether we should move to the model used across much of Europe, where decisions and resources are devolved to the level as close to the community as possible, then please let them know.
In Portobello, some local people are organising a community meeting on the subject, and we'll let you know when and where that is happening as soon as we know.
We hope this research will start a discussion within government and local authorities on how community councils should be resourced. To truly learn what a community feels about issues requires tools to engage with people. And as local government has adapted to changes due to the internet so too must community councils. A community council in Dundee should be equally empowered to carry out its statutory duty as one in the Shetland Isles.
Links