Merry Christmas and a Happy New Year to you all!
There's a Christmas Concert at the Robin Chapel this Saturday 21 December, 4.30pm-5.30pm. Enjoy a fabulous festive event in the serene surroundings of this special place and hear the wonderful Robin Chapel Choir. Followed by mulled wine and mince pies at the Thistle Centre of Wellbeing in Queens Walk, Craigmillar. Tickets are free, but need to be booked in advance to avoid disappointment. Contact: gail.begg@thistle.org.uk.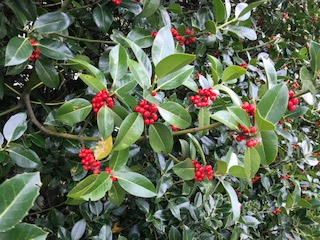 This holly leaning over Brighton Place is looking lovely, but you won't notice anything like that when you are stressed out, driving along or fuming, stuck in the traffic of which you are a part. Now that Brighton Place is open to general traffic and so is Brunstane Road, do remember to park and drive in a way that is fully considerate of other road users. Space for everyone to move about is limited by the travel choices that we and others make. We need to find ways of sharing it more equitably, safely and sustainably. Let's all work together to find those better solutions in 2020.
It's really cold these nights! So if you're worried about someone sleeping on the streets, do call Streetwork on 0808 178 2323 or email streetteam@streetwork.org.uk. Their hard working street team is out helping people who are rough sleeping.
Our new charity Craigmillar now has made a start with our website which shows what the restored inside of the business looks like: https://craigmillarnow.com/. We have a few grant applications in the offing and have recently heard that our partner The Venchie has been successful in getting some finding for a strand of our Centenary work in 2020 from the Portobello/Craigmillar Community Grants Fund. Watch this space!
When we finally got full access to the former Craigmillar Community Arts building, we were very upset to find that the Helen Crummy Memorial Plaque had disappeared. If anyone knows where it is, or could return it please do get in touch. We just want it back where it belongs, not to blame anybody for taking it away. More here: http://womenofscotland.org.uk/memorials/plaque-memory-helen-crummy
It can be very hard to be alone but it can be even harder to be alone at Christmas. The team of volunteers at the Phoneline, based at Volunteer Edinburgh, are dedicated to help. They research activities to combat loneliness and isolation for people aged 50+ in Edinburgh. Contact Phoneline on 0131 603 8311
Celebrate Christmas with the Bingham Community's Carol Concert on Monday 23 December. Start at 6pm at 35 Bingham Drive, or just join in from 7pm at the Community Garden. Everyone is welcome and there shall be mince pies and mulled wine for all.
There's a last minute chance to buy a Figgate Park 2020 Calendar from the volunteer's container near Fruity Corner (Baileyfield Road) tomorrow – Saturday 21 December 9am-11am. Only £8 with every penny benefitting the Park and its wildlife. I got mine in Cove on Portobello High Street.
Last week's Update had a link to Tree Time at Christmas, a project of the Edinburgh & Lothians Greenspace Trust in partnership with the Council. Here's another plug for it, thanks to Donald Anderson writing in the Edinburgh Evening News: https://www.edinburghnews.scotsman.com/news/heres-how-help-plant-trees-edinburgh-donald-anderson-1340904
Queensferry do their thing, but Portobello has established its own informal Loony Dook over the years. This year, here's the deal: https://www.edinburghlive.co.uk/best-in-edinburgh/whats-on-news/portobello-loony-dook-how-you-17424007
The Council has a new improved website which should be easier to use. Do let me know what you think! https://www.edinburgh.gov.uk/
Do let me know if you want 'updated' on anything else or have further questions or comments.
Best wishes for a good weekend and run up to Christmas! Don't get too stressed out!
Maureen
Councillor Maureen Child
Labour Councillor Portobello/Craigmillar Ward
Office: 0131 529 3268
Mobile: 07718 666 481
Facebook Page: Maureen Child Standing Up for Portobello/Craigmillar
Twitter: @MaureenChild1